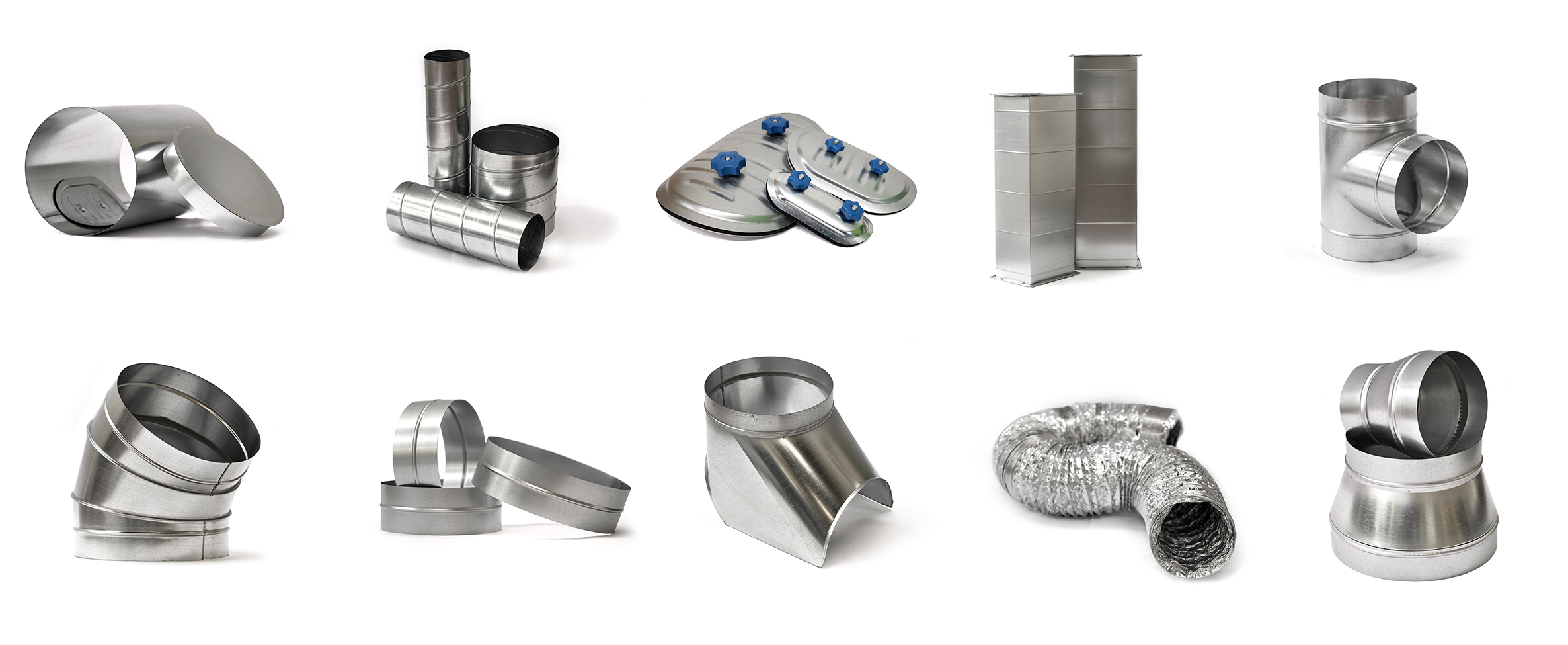 Products
We constantly evaluate existing systems & components, and where necessary,
develop new GREENER, TIGHTER, LIGHTER ducting products which improve performance.
We utilise the most up-to-date CAD/CAM draughting to manufacturing systems, ensuring that specific client requirements are met, and highest quality products are delivered.
We provide a wide range of ducting products, including:
Rectangular Ducting, which can be supplied galvanised, stainless steel or aluminium.
Circular Ducting, available in standard lengths or can be cut to suit your requirements.
Fire Rated Ducting, which allows up to 4 hours stability, integrity and insulation Ductwork.
Koolduct, pre-insulated phenolic board which is ideally suited to restricted areas where low weight is essential.
Volume Control Dampers, designed to provide accurate control of airflow combined with low torque operation.
Fire Dampers, which stop the spread of fire through Ducts, walls, floors and ceilings.
Canopies and Filters for both commercial and domestic requirements.
FEATURES:
'Tite-lite' point-to-point Ductwork – A patented system with integral flanges which dramatically reduces leakage up to 70% and weight in heating/ventilation systems up to 30%, while reducing carbon footprint.
'Insul-tite' – Full weatherproof external pre-insulated Ductwork.
Flamebar BW11 – Fire Rated Ductwork fully tested to BS476, Part 24 for upto 4 hours stability, integrity and insulation.
Flamebar BW18 – Fire Rated Ductwork fully tested to EN1366, Parts 1&8 .
Koolduct – Pre-insulated Ductwork system providing optimum energy saving and environmental solutions.
Climaver – Pre-insulated Ductwork system solution.  Manufactured from glass mineral wool, the Climaver insulated panels boast upto 80% recycled glass content.
DUCTING ACCESSORIES
Our wide range of ducting accessories are manufactured to the highest standard in accordance with BESA DW144 specification and comprise of access doors, fans, attenuators, gasket, sealant, flex, flange, grilles, grille boxes, plenums, supports, fixings and general consumables.
All products are delivered with our latest fleet of vehicles.