HVAC Ductwork Contractors, Fabrication and Engineering Solutions
Ductform is Scotland's leading HVAC Ductwork contractors, with a revolutionary patented ducting solution which is designed to deliver superior benefits for our growing portfolio of clients and market sectors.
Originally founded in 1974, Ductform manufacture, distribute and install HVAC Ventilation Ductwork and associated products throughout the United Kingdom from a 40,000sq ft. production facility in Fife, the heart of Scotland.
Why Ductform for your HVAC Ductwork requirements?
Our in-house continuous improvements programme has been the driving force behind our refined manufacturing processes, providing an easy install solution for our 'supply only' client base. Our fully encompassing pre-fit fabrication, reduces the potential for off-site risk, and the man hour installation time.
95% of our products are manufactured in-house, enabling us to guarantee the quality and delivery of the full Ducting system. Not only does this allow us to take full control of the project delivery programme, it also avoids any unnecessary delays due to any external supply issues.
Our design and development team have the capability and experience to assist you on the optimum solution for your project, whilst our Aftersales team provide a full maintenance and servicing solution.
Superior Quality
To complement our Tite-Lite Ducting System, we also manufacture and install our own range of Fire Rated Ductwork and Pre-Insulated Ducting – both to the same superior standards you would expect from our unique approach to ducting.
Our unique one stop approach has proven highly successful across a variety of HVAC projects, including nuclear, semi-conductor plants, prisons, airports and major retail and office developments, within the Construction, Maritime, Nuclear and Oil & Gas sectors.
In addition, we also provide a complete maintenance and emergency replacement service for all ducting installations.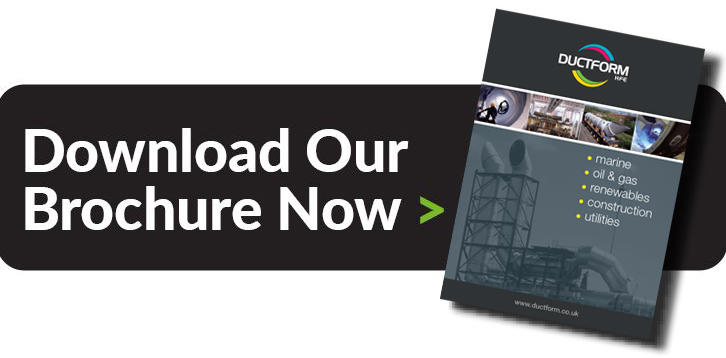 Projects
Our experience is such that we have been involved in a variety of notable projects:
Scottish Hydro Arena

Sir Chris Hoy Velodrome

Queen Elizabeth Class Aircraft Carriers

Museum of Transport

Scottish Parliament

Off-Shore Living Quarters

Shetland Gas Plant, Laggon Tormore
Our Ductform Tite-Lite™ formula
What Makes the Ductform Tite-Lite formula the Most Advanced Ducting solution on the Market?
The revolutionary Ductform Tite-Lite Ducting Solution has been developed utilising Ductform's extensive experience within the industry, and our ongoing commitment to design and deliver innovative ducting products that benefit our client base and Industry.
Our unique system capitalises on Ductform's most up to date manufacturing facility, capable of producing a wide range of products and accessories from single sheets of metal, dispensing with the need to apply bulky, expensive add-on flanges.
The Ductform Tite-Lite integrated flanging system dramatically reduces weight, this being a key advantage in sectors such as the Maritime and the Oil & Gas sector. In addition, this bespoke system simplifies the installation process, reducing time and cost in man hours.
With the growing importance of carbon emissions and energy waste, the Ductform Tite-Lite Ducting solution also reduces air leakage, thereby improving the overall performance of the system, whilst at the same time reducing the product lifetime cost.
Innovation
The key benefits of Ductform's revolutionary Tite-Lite System are:
Reduced materials
for a lighter, more flexible ducting system
Reduced installation costs
by minimising components
Improved air flow performance
by reducing leakage
Improved air flow,
reducing ongoing operational costs