Offshore Ducting Manufacturer
As Scotland's leading offshore ducting manufacturer, Ductform has completed a significant marine project to rectify damage to an oil rig off the North East coast of Scotland.
Ductform was tasked by client to manufacture two specialist heavy gauge, fully welded mushroom cowl vent stacks.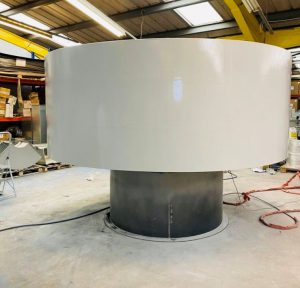 Roland Ferry, Operations Director at Ductform HFE, said: "Although our client has its own fabrication facilities, the mushroom cowl vent stacks required were considered a more specialised fabrication, and so they approached us to undertake the work. The added difficulty was that the project came with a three week time frame, and many of our workforce were either working from home or on furlough."
A small team was drafted in to design, manufacture and paint two individually sized mushroom cowl vent stacks as well as trunks to suit each stack.
The cowl vent stacks weighed 1200kg on completion, and due to their size, the finished items had to be delivered by escorted abnormal load delivery vehicles. Thanks to Ductform's efficiency and turnaround times, together with the capability to collaborate with other subcontractors, the works were completed within 3 weeks.
Click here to find out more about our specialist solutions to the marine sector
Or contact us now to discuss your offshore requirements