Duct Wrap Solutions
It is becoming more common for Ductwork to be on display, rather than hidden behind a ceiling. At Ductform HFE, we offer a variety of personalised Duct Wrap features aimed at satisfying your needs.
Camouflage Wrap
Our manufacturing efficiencies and unique point-to-point approach to ducting makes our insulated ducting solution extremely competitive from a cost perspective however the additional benefits it offers, including the ability to apply camouflage and indeed colourful vinyls.
A special pixelated type wrap can be used to emulate a particular background, so as to hide or camouflage the obtrusiveness of Duct and associated items. This finish may be of interest in a residential or perhaps planning protected area.
It may be that in particular quieter rooms or areas, Duct would impose on the idyllic features.  Duct may be wrapped to match the particular setting, so as to cause minimise the effect of background Ductwork.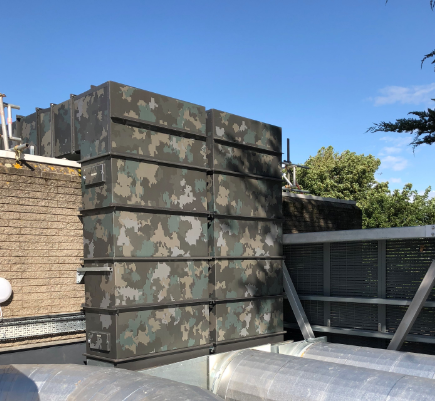 Advertising Duct Wrap
Ductform also offers the opportunity to utilise ducting as an effective advertising tool. Like billboards, ductwork can be wrapped in a logo or name of your choice.
This could represent a unique and relatively low-cost advert for your company. Placed in populated areas of interest where the footfall is high, it increases your brand awareness and recognition.
Ductwork wrap is also great tool for showcasing at exhibitions. As well as being displayed within stalls to advertise the companies taking part to the event, it may also be used as a way to indicate entry points and reception areas.
For more information on our Duct Wrap Solutions or to request your personalised Duct Wrap, contact us now.